Grant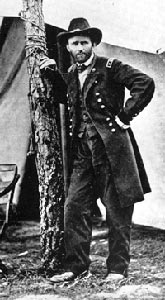 Download Grant (.pdf)
Category: Historical Drama
Log Line: This story traces the first year of Ulysses S. Grant's involvement in the Civil War, from his start as an alcoholic clerk in his father's store, to his acknowledgement as the most successful leader in the Union Army.
Background:
I've been to the battlefields in this script, and to Galena, Grant's hometown, which has become quite a tourist attraction. Also, I loved going to Civil War re-enactments at Fort Massaac when I was a child, and jumped at the idea of doing an epic story with thousands of people involved.
Side Notes:
I had Paul Newman's performance in "The Verdict" in mind when I wrote this piece. In "The Verdict," Newman plays a once brilliant lawyer who has become a down and out alcoholic but has one more chance to redeem himself. Grant had been a young hero during the war in Mexico, then fell on hard times before coming to prominence once more in the Civil War.
Many historians will contest that Grant's drinking was blown out of proportion or even a lie. This was not my concern. My concern was to tell a good story. Whether or not he was a drunk, my main concern was to show he was a hero who was able to raise himself up out of adversity.